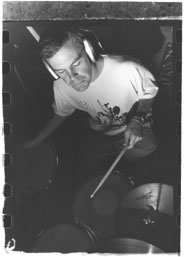 I have been teaching drums since 1990, averaging 25 students a week. Lessons generally are 30 minutes but longer times can be arranged if the schedule permits.
The approach I take with teaching varies quite a bit since I try to tailor each lesson to the students' needs and interests. Topics covered during lessons range from traditional rudiments and reading to popular song transcriptions as well as song structure and performing tips. As a multi-instrumentalist I have a unique perspective on drumming to support the music and ways to interact with your fellow band members.
My involvement with music began at age 5 finally picking up the drums in 1982. After years of playing in bands and touring, I decided to learn more about the academics of music. I have recently finished my BA in Music from UCSD with academic distinction and college honors, graduating Summa Cum Laude. My studies there included classical percussion, marimba and an emphasis on jazz theory and performance. Additionally I have had the honor of studying with world renown percussionists Steve Schick, Peter Erskine, Willie Jones III, Jeff Hamilton and Gerry Hemmingway.
In 2010 I completed my first instructional book called Creative Construction. The book and companion play-along CD teaches drummer how to write drum parts that connect well with other musicians. It's a fun way to learn the drums and can help make the leap from "home practice" to "band practice". Find out more about the Creative Construction drum play-along method here. This method book was discovered by the editors at Modern Drummer Magazine and commisioned for a series of article in the 2011 issues. The sixth published article / video in Modern Drummer comes out in early 2017.
Please Email me if you have any questions about my teaching or credentials. References are available on request. I am currently teaching at AMX in Encinitas. For appointments please call (760) 688-6802.